Nithyasree (Cinnamon)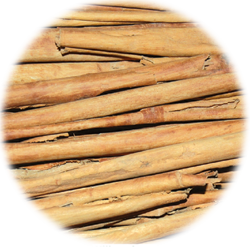 Pedigree
Seedling selection from Indian collection
Areas of Adoption
All cinnamon growing areas of India
Crop Duration
3 years for first harvest
Yield
200 kg dry quills/ha
Potential yield
250 kg/ha
Quality Attribute
Cinnamaldehyde in bark oil
58% 73%
Cinnamaldehyde in leaf oil
15%
Morphological Characters
Height of tree at 5 years(m)
5-7
Trunk girth at 5 years(cm)
30
Colour of young flushes
Light purple turning green in 8-10 days
Leaf length/bredth(cm)
13.4/4.69
Nature of flowering
Terminal and auxillary.
Time taken for flowering
4 years
Shoot regeneration capacity
25.45/4 plants
Yield of dry bark per plant(g)
201.1
Colour of dark bark
Light brown
Reaction to major pests and diseases
No major pest or discease attck was noticed.
Special characteristics
A selection with high shoot regeneration capacity. Higher cinnamaldehyde and oleoresin in bark.